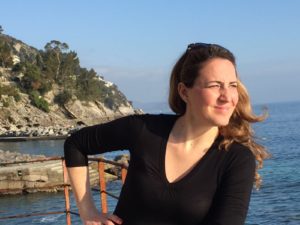 AOS: Ethics, Moral Philosophy, Philosophy of Religion, Analytic Philosophy.
AOI: Business Ethics, Epistemology, Theoretical Philosophy, Philosophy of Mind, Metaphysics, Philosophy of Language, Philosophy of Law, History of Philosophy, Contemporary Philosophy.
AWARD:  Paolo Michele Erede Foundation First Prize, May 30th, 2014.
*****
Elisa Grimi was born on September 3, 1984 in Monza, Italy. After completing a scientific high school with perfect marks (100/100), she graduated cum laude in philosophy at the Catholic University of Sacred Heart, Milan, with a thesis entitled "The concept of 'sich-orientieren' in Immanuel Kant. An analysis on the structure of thought of a philosophy of 'how'". Subsequently, she continued her studies in the same University, achieving a second level degree in "Logic and Philosophy of Science" with a thesis entitled "Nature and structure of thinking. Ludwig Wittgenstein and Contextualism," which she defended cum laude. During this degree she improved her German at the Goethe Institut Mailand and at the Goethe Institut Heidelberg, French at the Centre Culturel de Milan, and English at the California State University, East Bay, U.S.A. During her Master's she completed the Erasmus program at the Leopold-Franzens Universität Innsbruck, Austria, also taking courses at the Theologhische Facultät – Institut für Christliche Philosophie. She also organized and conducted seminars and participated in weekly seminars at SdAff. During the second half of the academic year 2009-2010 she conducted research at the University of Oxford, UK, improving her English at St. Clare's Oxford. She also spent for her research activities the spring quarter 2011 at the University of Chicago, U.S.A. Then she spent the Michaelmes Term 2011 at the University of Oxford. In October 2012 she defended her PhD thesis on G.E.M. Anscombe's thought, titled "One Life, one Thought, one Passion. The Philosophy of G.E.M. Anscombe" [publication: G.E.M. Anscombe, The Dragon Lady, con testimonianze inedite, Cantagalli, 2014], getting the title of "Dottore di ricerca in Filosofia" plus Doctor Europaeus (Ph.D. European Label). She has been enrolled in a PRIN (Italian Project of National Interest) with the University of Genoa, Italy. She is also a member of the Italian Philosophical Society, Italian Society for Moral Philosophy, Italian Society for Theoretical Philosophy, Italian Association for Philosophy of Religion and the American Philosophical Association. She is Editor-in-Chief of the journal of philosophy "Philosophical News" and project manager of Philojotter.com, international network calendar. After an intensive course of French at Centre Culturel Français in Milan, she continued to improve her French at France Langue in Paris, and she conducted a research at Institut Catholique de Paris following lectures for Etienne Gilson Chair. Since 2014 she is member of the Editorial board of the "Nuovo Giornale di Filosofia della Religione" (NGFR). In 2014 she collaborated with the research project "Virtue Ethics. Humility" at Campostrini Foundation in Verona. On 30th of May 2014 she won the Paolo Michele Erede Foundation First Prize with a study on "Politics and Network". In the academic year 2014-2015, fall semester, she taught as Professor in Philosophy two courses at the Catholic University of Sacred Heart, Milan (English language), the first one titled "Europe and Modernity" and the second one "Human Rights, Freedom of Expression and Dignity". In 2015 she collaborated as tutor at Campostrini Foundation, Verona. From 2016 she is Executive Director of the European Society for Moral Philosophy. She had completed a post-doctoral fellowship in philosophy at the Université de Neuchâtel, Switzerland, 2015-2016.